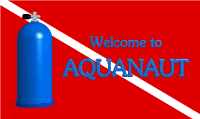 AQUANAUT
Welcome to Aquanaut, the internet's first and (not-exactly) largest online magazine dedicated to the recreational and technical SCUBA diving community. Aquanaut has been online since February 1993. Prior to use of WWW technology, Aquanaut used a Gopher server for several months to bring you a simple text and graphic magazine. We added WWW in late 1993 and dropped the Gopher service in mid-1994.

Aquanaut contained sections that included Dive Gear Reviews, Environment, Fish & Marine Life, Image Gallery, Marketplace, Medical & Physiology, Miscellaneous Info, Site Reviews, Temperatures & Weather, Wreck Database and links to Other Web Resources. We ran several popular mailing list forums, including TechDiver. The Wreck Database, WreckDB. was a growing database of shipwreck information, including locations, details of the ship and what you might expect to see on a dive there. In July 1996, we created AquaCrawler: our own Web Crawler tool. At its peak AquaCrawler maintained a database of links to thousands of other Web sites containg SCUBA information.

In March 2004, we decided to end Aquanaut due to the increasing time and network resources needed to maintain it, not to mention the continual abuse of the mailing lists. By popular request, the Club Directory, the list of Training Agencies and the TechDiver and other mailing list archives remain available; use the links below to access them.

Latest News
New activity!
October 2021
As regular visitors here will know, this site has been largely unmaintained since March 2004. Even at its peak, Aquanaut was always a personal project where the entire site, its content, scripts and databases were maintained by one person on a single web server. Back in 2004, due to the time contstaints of work and real life, the costs of operating the site and the endless abuse of the mailing lists which required a lot of time to keep sorting out, the decision was made to close the site down. By popular request, the Club Directory, the list of Training Agencies and the mailing list archives were kept online. For the last sixteen years, there was a notice here offering the domain for sale, but only a handful of requests for info were received, and none offering anything worthwhile. So the site remained active and scripts that power it have been kept working through various system upgrades and technology changes.

A request to folk with entries in the Club Directory. Please check your entries and keep them up-to-date. Some entries are more than two decades old! If you do not remember your club's password, there is now a "Forgot Password" link on the page where you start the update. If the email address listed for your club is no longer valid, please send email to the webmaster for help.

The first recent updates involved making the whole site mobile-friendly. It has involved adding new HTML metadata to all pages and adding scaling information to images and to preformatted text. On top of that, it was interesting to discover that many of the pages from this site were still using very early HTML standards from the 1990s - but, even so, they still looked fine on modern browsers! Wow! Of course, these have all been updated to send HTML5 pages now.

You can contact the webmaster by email at: webmaster@aquanaut.com.

Aquanaut's Index

Aquanaut's Sponsors

Aquanaut is hosted at Opal, or Open Advisors Limited. Opal provides training and consulting services in networking and open systems technologies.
The Aquanaut icon image was created by Tyler C. Durrett.
© Copyright Open Advisors Limited, 1993-2004, 2006, 2021