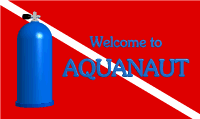 AQUANAUT
Welcome to Aquanaut, the Internet's first and largest online magazine dedicated to the recreational and technical SCUBA diving community. Aquanaut has been online since February 1993. Prior to use of WWW technology, Aquanaut used a Gopher server for several months to bring you a simple text and graphic magazine. We added WWW in late 1993 and dropped the Gopher service in mid-1994.

Aquanaut contained links to diving sites, equipment, techniques, clubs, training agencies, fish information, libraries of photographs, and also several popular mailing list forums, including TechDiver. There was also a growing database of shipwreck information, WreckDB. In July 1996, we created AquaCrawler: our own Web Crawler tool. At its peak AquaCrawler maintained a database of links to thousands of other Web sites containg SCUBA information.

In March 2004, we decided to end Aquanaut due to the increasing time and network resources needed to maintain it, not to mention the continual abuse of the mailing lists. The Club Directory, the list of Training Agencies and the TechDiver mailing list archive remain available; use the links below to access them.


Since March 1st, 2004:
Latest News
Aquanaut.COM Domain Name For Sale
March 1st, 2004.

Following the decission to end the Aquanaut website, the domain name is being offered for sale. Sale will be by agreement and contract. Interested parties should send email to webmaster@opal.com.

Aquanaut's Index

Aquanaut's Sponsors
Aquanaut is hosted at Opal, or Open Advisors Limited. Opal provides training and consulting services in networking and open systems technologies.

The Aquanaut logo image was created by Tyler C. Durrett.

© Copyright Open Advisors Limited, 2006